We've got another video for you!
It's short at under a minute, as we know your time is precious, but take a look to find out what you do the next day after having applied your foot patch.
As you'll see the patches get moist, this means they are working. Because the ingredients in the patches are dark in colour, when they get wet from the moisture naturally coming out of your body they go dark.
The residue is easily washed off in your morning shower or bath.
Everybody's chemistry is different.
If when you take the patches off they are dry and still white, it means that you are dehydrated and need to drink more water.
We suggest that you apply the patches consecutively for 5-7 days to start with, then see how you are feeling. If your ailment is better, simply stop and keep the remaining patches for when you feel the need arises again.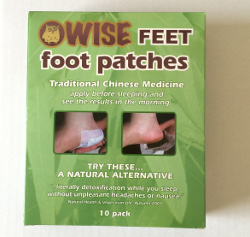 Treat yourself to a great night's sleep
Why not give our Foot Patches a go with our starter pack?
Use our $5 voucher offer and you only pay $27 to try them out!
Our starter pack contains 10 patches, so that's 2 for each foot for 5 nights
Delivered free to your door.
Try now!